The Sound Of Hardstyle – Home Edition mixed by Wildstylez & Brennan Heart
Normally, hardstyle legends like Wildstylez and Brennan Heart would now be recovering from a very busy summer. But unfortunately this festival season, no dozens of bookings all over the world, but luckily this results in more time in the studio and they are also responsible for a new mix CD of The Sound Of Hardstyle. We sat down with the gentlemen to talk about music in a festival-free time: "There are fewer releases at the moment, but enough quality tracks are released to make a mix for the fans."
The Sound Of Hardstyle is a compilation CD which includes everything for the enthusiasts. In fact, none other than Wildstylez & Brennan Heart are responsible for this new mix CD. Not a set on stage, but one that you can listen to on the road in the car or stream via Spotify. "The music on such a compilation must of course be good music and it must really represent the 'sound of hardstyle': from euphoric to raw hardstyle", explains Brennan Heart.
This quality is very important, says Wildstylez. "My sets normally consist a musical combination between Wildstylez, Art of Creation, talent that I like to support (for example Jay Reeve & Aftershock) and other great artists with an original, fresh sound. This album is no different. We live in a crazy time, so this is my way of showing what people could have expected from me in a set." Because yes, it is indeed a crazy time, when fans cannot hear the music of their favorite artists at a party. So with The Sound Of Hardstyle the party is brought home.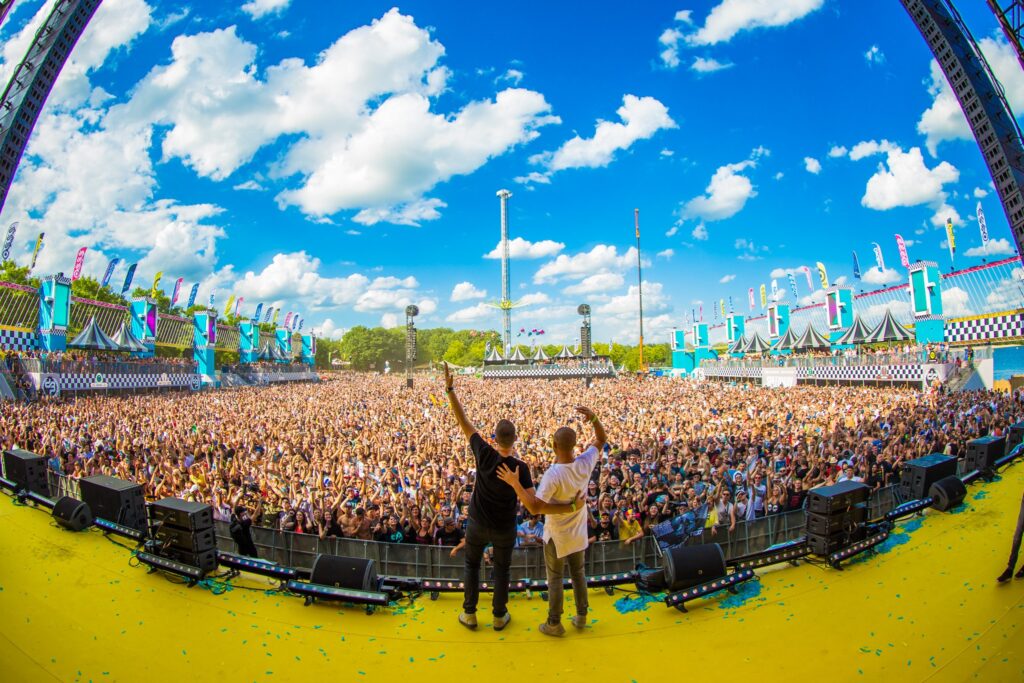 "As a music lover, you don't want to have a year without new music!"
It is important for artists to stay in the picture: they naturally want to maintain the connection with the fans and vice versa. "This is the only thing I can do for my fans at the moment", said Wildstylez. "They have always supported me and now I can give something back in the form of music. It has something connecting in a time when performances are scarce. It also motivates me to stay busy in the studio." The productivity is even very high and promises a lot of good. "Sooner or later everything will be over and then people can expect a completely new Wildstylez set from me compared to the beginning of 2020."
Brennan Heart is also making creative overtime in the studio and we will soon be hearing a lot about this soon. "Despite the fact that there are hardly any performances, I think it is important to remain visible. As a music lover you don't want to have a year without new music! Also, I now have more time to produce and I also feel much more creative than during my busy tour schedule last year. In fact, my new album 'Brennan Heart & Friends' will be released soon."
The Sound Of Hardstyle
In general, there are a little less releases at the moment. This is understandable, because COVID-19 has not only scrapped all festivals, but also causes less inspiration for some artists and others believe that their music is best done at an event. Yet, Brennan Heart and Wildstylez have little trouble with this and have released quite a few tracks this year. It was therefore no problem at all to provide the mixes for The Sound Of Hardstyle CD.
"There is definitely less music", explains Wildstylez. "But there is still enough quality music being released. Within Art of Creation, we also continue to release and that makes the choice for the tracklist a lot easier. Every release on Art of Creation is of a high level." In fact, it's still part of a DJ's routine, says Brennan Heart. "I have my podcast every month and an update of my Spotify playlist every week, so I'm always working on new releases anyway. It was therefore no problem to compile this list."
Even the sound of hardstyle changes a bit in this quarantine time. "I haven't noticed yet, but it does haunt my mind every now and then to maybe put the music into something else", says Wildstylez. This is because we have been living without events for quite some time. "I notice that you miss the connection with your fans enormously", adds Brennan Heart. "At a festival you immediately see the impact your music has with people, but the only thing you see now is online reactions and statistics. To a certain extent it does change the sound. Sometimes you have music a bit on a dance floor. works better than at home, so you will hear these kinds of tracks less now." But there is still enough quality to listen to at this point.
So there is a lot of new music coming from both DJs, and their most recent selection can be heard on The Sound Of Hardstyle. Two CDs with tracks not only from Wildstylez and Brennan Heart, but also from Headhunterz, D-Block & S-te-Fan, B-Front, DJ Isaac, Sub Zero Project and Ran-D, among others. You can now order or stream The Sound Of Hardstyle from any platform.